SLG Web Design Search Engine Optimization (SEO)
Search engines are powerful tools that your company can employ to gain exposure in the marketplace. Through SEO we configure your website to harness the power of these traffic guiding giants.
SLG Web Design's (In-House)

Optimization Methodology
We use diverse tools to analyze visitor keyword use and browsing habits. Combine that with current trends, what your competitors are doing, and our experience.
Search Engine Optimization tools and techniques:
Keyword Analysis
Link Popularity
Meta Tag Generation
Keyword Optimization
Page Rank Analysis
Site Link Analysis
Directory Inclusion
Search Engine Submission
We fine-tune website content in order for search engines to index your site under the relevant keywords or key phrases.
We regularly check search engine ranking to ensure that your web site works well in all popular search engines. Based on these reports we further optimize your site for higher and better listings.
Results:

Increased visibility on the Internet.

Increased number of search engines and directories in which your web site is listed.

Maximize the number of listed web pages in each search engine.

Link popularity through Increased number and quality of links to your web site on other strategically appropriate web sites.

Increased search result position rankings of your web pages.
We are experts in optimizing existing web sites for Search Engines and Internet Directories, increasing search engine rankings and raising traffic levels.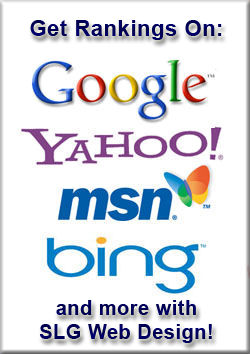 Marketing Packages:
Basic Package
$150
$50 FREE Google Advertising Credit
FREE Website Submission to 1,800+ Directories
$100 FREE Bing Advertising Credit
FREE Online Advertising with YP.com
Standard Package
$350
$75 FREE Google Advertising Credit
FREE Website Submission to 1,800+ Directories
$100 FREE Bing Advertising Credit
FREE Online Advertising with YP.com
*Terms and Conditions Apply